This year is going to be quite a year since it will most likely be the Halloween King's final show. He is considering a much needed retirement after scaring the Downriver Detroit area for over 23 years! Well enough bad news... onto the haunts for the year!

~~~~~~~~~~~~~~~~~~~~~~~~~~~~~~~~~~~~~~

When you first arrive at our house you will see our friend Boney who is all "spiked out" on our bed of pain!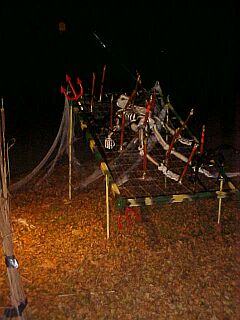 Then you will come to a rather large tarantula but watch out, he is not stationary! He moves around the yard with ease and he might just take a chunk from your leg!
On your left you hear a wrestling in the trees and when you turn to see what it is a giant dragon lizard is right there, taking flight!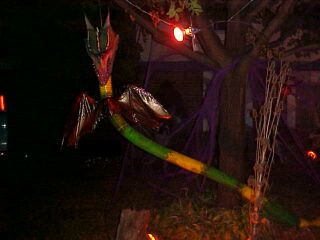 As you continue your journey you come to what looks like an evil altar...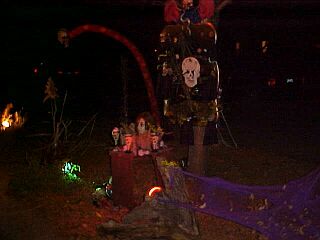 complete with a Magick Mirror with an eerie glowing face staring back at you. Below the Mirror you see a bubbling stew sitting on an altar with a head floating inside and creatures of the night emerging from the bowl!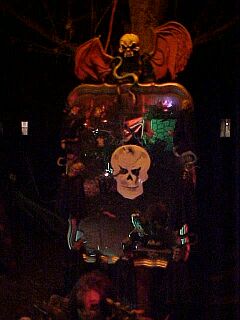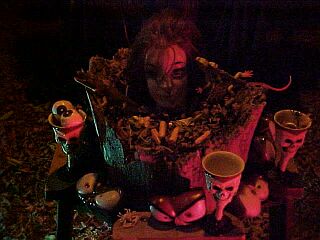 Emerging from the earth just beside the altar is another snake like creature that is posed to take a bite from the next unsuspecting victim!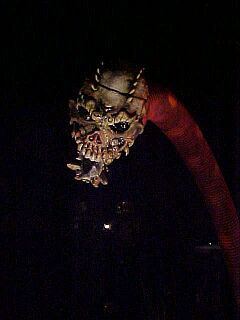 You divert your eyes to the opposite side of the lawn and you are immediately assaulted with yet another snake like creature... this one has three heads and seems to be swimming right through the solid earth!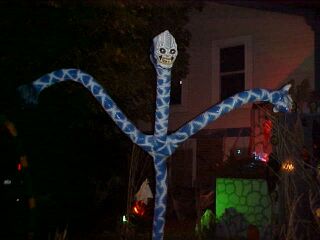 Just as you round the corner to begin the walk to the house you notice a rather large coffin with a dead creature inside, it seems pretty harmless to you...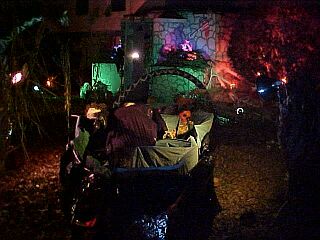 Until the creature starts to move! As it raises up out of the coffin you pick up your pace to avoid getting grabbed by this monstrosity!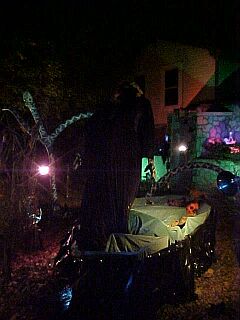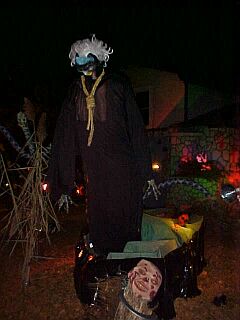 Attractive, Isn't he?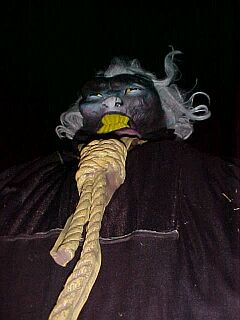 This is the haunted mausoleum in front of the house, you must walk through it to get to the door for your candy! But before you reach the door you are greeted by...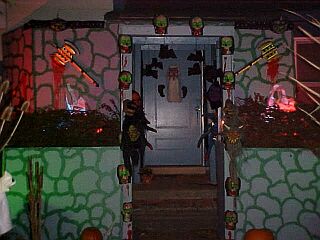 This pair of hideous aliens reaching through holes on either side of the corridor! But you are not done yet...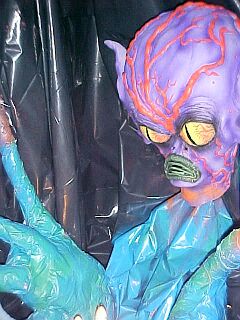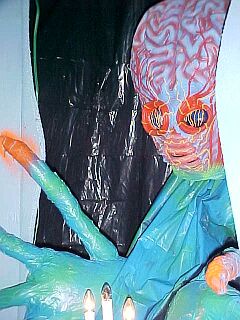 because reaching through a seemingly solid door is an evil wizard who wants to steal your bag of treats right from you!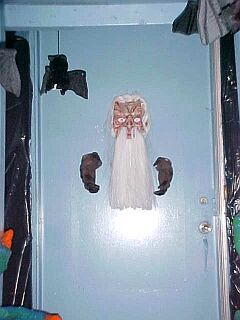 So what do you think so far? We still have lots of folks helping us out, roaming the yard scaring new life into you and of course there is still one BIG thing that I have not told you about but you will have to stop by the house to meet him! LOL! So drop me an e-mail if you have never been to the Haunted House of Brownstown and I will give you directions! Otherwise I will post more pictures after the big night!
Happy Haunting!