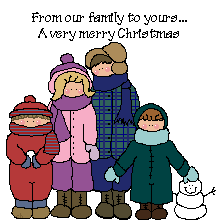 This year we will travel "back home" to celebrate the holidays with family & friends in Michigan! For once, Jim was lucky enough to be granted "leave!" We chose to stay around base this year for Thanksgiving so others could take leave so now it is our turn! We are so excited! So watch out Michigan, here we come in our brand new Chevy Uplander!!!!
Since we are a bi-religious household, (Pagan & Catholic) we make sure to celebrate both Christmas & Yule together. DJ thinks it is really special because he gets to have two holiday celebrations at once! If he has been good, he gets a visit from the Holly King during the Winter Solstice and then on Christmas Eve, Santa drops by for a delivery. Of course, before either event occurs we spend a day or so going through all of his old toys and decide what ones we want to keep and what ones we can spare for the children who are not as lucky as DJ. After a few years of this new tradition, he has really learned to appreciate the act of giving. Now he actually looks forward to "gifting day." Tradition is obviously very important at our house. We have already continued my family traditions with D.J. by getting him his own ornaments each year and one for special milestones. Searching for that perfect ornament and then adding it to the tree is one of his favorite things to do. One tradition that comes and goes yearly but continues to amaze him is the letter from Santa. D.J. received his letter the other day, telling him that he has been a good boy so far, but he needs to listen in school more and stop talking out of turn so much. Santa told him that he is in touch with DJ's teacher and if he gets a good report, he will be getting some good gifts.




Speaking of traditions, do you have some you'd like to share? Tell us! One of our traditions is that every year and every special moment (ie., graduation, marriage, vacation) you get an ornament. After you're all grown up and married you get to take all of your ornaments with you. This way, you have a "record" of your life and a full tree for your first christmas! This has been tradition in my family while I was growing up. Now my husband, son, and I have adopted it as our tradition.

A tradition we hope to start with our son is also a life lesson. We want to instill a sense of charity and giving in our son. So every year, we are going to have him pick out a few of his toys that he would like to give away to someone who needs them. Then we'll all go down to the closest family shelter and let him give them to the children there. We want to teach him that even though we don't have much, we are always willing to share with those who are in more need than us.

Well, we hope that everyone has a wonderful holiday season this year. Let us all join to make this year extra special for someone else. Why not give some of those old blankets and coats to charity? Invite a single soldier or college student, who could not get home for the holidays, to dinner. Gather up your kids and their friends and take them to a convalescent home to sing Christmas songs. Try anything, because if we all do a little, it will be allot in the end!

Also, please take a few moments and remember all of our military members who are away from their families during this season. It is hard to live the life of a military member, spouse, parent, or child... they need your warm wishes and supportive energy. It is especially hard to be apart from the ones you love during the holidays and if they are to succeed in protecting our country and helping those in need, they need to know that the people back home love and support them. Visit this link for a reminder of those who serve: Until Then
Click Here for Two Heartwarming Stories!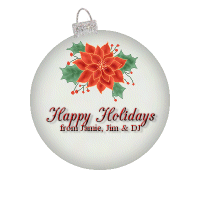 Click Here for a Military Christmas!
Our Christmas Traditions:
Open gifts from family on Christmas Eve after dessert
Open Santa's gifts on Christmas morning
Get (at least) one new Christmas ornament for every year
Share a family prayer before Christmas dinner
Share homemade gifts with our dear friends
Give one stocking stuffer to each family member
Take cookies and warm drinks to the gate guards of Ft. Campbell (if we are not traveling)
Donate clothes & toys to local charities
Send out a annual family letter to our family & friends
Set our cookies for Santa
Light candles and recite blessings for the Solstice
Good Christmas Links:




X-mas
Everything
Santa's Homepage
Capta in Jack's Tree Farm
Santa's Home on the Web
A nice poem about Christmas
Songs, Scapbooking, graphics, etc...
The Christmas Depot has icicle lights!
Christmas 'round the world (wide web)
The National Christmas Tree Association
Christmas & Chanukah & Family Traditions
The Christian perspective on the holidays
Get yard displays at the Christmas Factory
Every thing Christmas to pizza joints
open on
X-Mas Day!

"Hmmm...gifts to give, you seek. To all of the galaxy, boys and girls must visit. Only a Great Jedi can do what you seek. Must use the Force. Yoda can do."
Happy Holidays!
***Don't Forget to visit "Our Home" page and Sign my Guestbook!***

<! trailer>
Hosted by


Page Last Updated on 18 Sept 2004.
Background and divider bars provided by Pat.
Ornament & Star created by Jamie.