Jim and Jamie have been best friends for almost two decades. They're a couple of geeky athletes who discovered through distance that they really loved each other more than best friends typically do. And here they are a decade later, married with a blooming family... and their saga continues!
Serving as a military family each member does what they can to support the troops! James serves his country as a soldier, James serves as a manager for a military support agency and as a POC for the MPN, and Donald makes art and baked good for the troops... why not do your part?
Proud to be...
by Jamie McManamon

I am an American and proud to be,
In this country where I am free,

To show my pride on the 4th of July,
I raise my hand up to my right eye,

And salute the flag of colors so true,
Yes, I am proud of that red, white, and blue!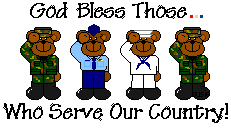 Our top ten favorite SW quotes to live by:
It is not wise to upset a Wookiee.
Size matters not.
Luminous beings are we...not this crude matter.
Try not. Do. Or do not. There is no try.
Wars not make one great.
There are alternatives to fighting.
If once you start down the dark path, forever it will dominate your destiny.
Don't give into hate- that leads to the dark side.
Many of the truths we cling to depend greatly on our own point of view
Thank the maker!
We spent 11 years at Fort Campbell, KY and we will always consider it one of our "homes" no matter where the Army sends us!
Things We love about Ft. Campbell
In the heart of the "country"!
Decent Weather!
It's not a training post (ie.. NO Drill Sargents)!
Wide variety of units!
Huge training areas!
Decent Hospital!
Near major cities (Clarksville & Nashville)!
Has a college near by!
Has a brand new state-of-the-art Education center!
Has a wonderful AFTB program!
And getting a new museum!
Things We love about Ft. Lewis
Near so many large and interesting cities!
Close to several military installations.
Housing is not bad, actually being renovated and rebuilt.
Love the summers here, not too hot and almost always bright and sunny.
All the lovely nature all around... Mt. Ranier, Puget Sound, it is all just so breath taking!
Close to Canada... he we grew up near Canada, just on the east coast!
The largest exchange in the world.
Plenty of colleges in the area.
Open minded people accepting of all faiths, races, creeds!