Relax in Flannel!
| | |
| --- | --- |
| | Hello, Jamie here, welcome to my room! Why not pull up a chair and relax for awhile? There is one condition, of coarse. You must be relaxing in your favorite flannel pajamas. What?!? You don't own flannel pajamas?!? Well here, you can barrow a pair of mine. :-) Now sit back for awhile... |
Well I guess I should tell you alittle bit about me. I grew up in Brownstown Township, Michigan. That's a huge township southeast of Detroit, just off of Lake Erie. I attended Woodhaven School District, where I was an advanced placement student and triple sport athlete. After I graduated, I attended Central Michigan University & Wayne County Community College.



&nbsp In 1996 my boyfriend (and BEST friend from High School) returned from his tour in Korea and asked me to marry him. :-) A few months later Jim & I were married, and I moved to Clarksville, TN where I attend Austin Peay State University Main Campus. I restarted my college career in a new field, majoring in Criminal Justice with a double minor in Computers & Military Science. (Yes, that means I was in ROTC. I'm no longer a cadet because my priorities have changed since the birth of my son, D.J. My husband and I decided that it would not be wise to be a duel military family when we both have dangerous careers to begin wtih. LOL!

Not much longer after my son was born I proudly became a Work At Home Mom, I missed working and I could wait to graduate school, but I was proud to be home with my son, nevertheless! In July of 2000 I joined a wonderful team of scrapbookers & rubber stampers and became an Independent Consultant. I represented CTMH® (Close To My Heart®) as the sole consultant on Ft. Campbell, KY and in the Clarksville area! After two years of complete enjoyment I retired from CTMH® because I realized I spent so much time helping others scrapbook, it left no time for me to work on my own albums! Not to mention that 9-11-01 changed everything and with the mail system on military bases being messed up for months, my business just died out! Anyways, some of my other interests include crafting, scrapbooking, hiking, digital photography, making computer graphics, and reading! In my spare time I can usually be found volunteering or hanging with my friends! I have finally retired as Mayor for my on-post housing area and I have packed up my AFTB facilitator books. (Army Family Team Building). Since I have embraced my faith I have redirected some of my priorities towards making a difference in the Pagan community. Although that does not mean I have forgotten my military duties, I still volunteer with my FRG and in my son's school! And of course, if I'm not doing any of the above I am sleeping or chill'n in my flannel pajamas with my DJ and my winnie dogs, watching the Disney Channel, PBS Kids or Lilo & Stitch!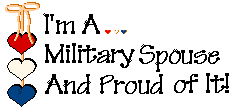 Then came the days of the "Geographical Single Parent" thing. WHAT?!? You have never heard of that? Oh well that is when the military sends your spouse halfway across the world more times than they are home. LOL! :-D Seriously though, in the last few years Jim has been gone for a year in 1999-00, over 280 days in 2000-01, then he was deployed for O.E.F. and when he came home he came down on orders to Taegu, South Korea for a one year tour that turned into 14 months! Anyways, last year while Jim was in Korea, I decided that we needed a break from base life and we packed up and moved "back home" to be near family & friends. We lived with "Grandma & Pa-Pa" (as DJ calls my folks) in Downriver Detroit. I admit, it was a lot of fun being near family again. Although it sometimes it was not so nice being so close if you know what I mean. ;-) I really did enjoy having the extra help with DJ because he can really be a handful! Anyways, what I cherished the most about the expierence of living back home again was being able to really form a special relationship with my family. I would have never had that opportunity if the Army had not sent Jim to a place that DJ and I could not follow! And of course I cannot forget to mention all of the really special Pagans I met and got to work side by side with over the last year, really working hard to make the Downriver community a great place and for Pagans to be recognized as the normal, caring, earth centered people that we are! I do miss you guys!
Well... here is a quick update... Wait... you might want to sit down for this... Jim, DJ, and I are actually all together! Yes, Jim is off the road for a short time in order to go to college! YES! In addition, I am finally finishing my B.P.S. (Bachelors of Professional Studies--- it is a public management type of degree) with APSU! Among other things, I am also volunteering in my son's school, helping with other community service projects, and keeping up with the good old FRG. I am still "crafting" here and there and running too many websites, as to be expected! So these days the family life is full of fun and extra activities we usually cannot do together!

There are a few things in my life that are so important that they guide my actions, and some say that they define me. I disagree, I feel that these roles do not define me but they do guide me to make the deicisions and perform the deeds and actions that I do! Roles such as being a military wife, being a pagan and being a parent! By clicking on the links below you can find pages on my website that I have dedicated to these roles!

These pages all belong to It's an Army Life!
You may appear to have been redirected to another site
but you have only jumped to another one of my own domains!


Other Causes I Support:
takes you away from our site
<! trailer>
Hosted by

Background set provided by Pat.
I luv my soldier & proud to be a spouse graphics are from Susie.
Proud to be an EMT graphic by Ron Fleischer!

Page last updated on 18 Sept 2004.