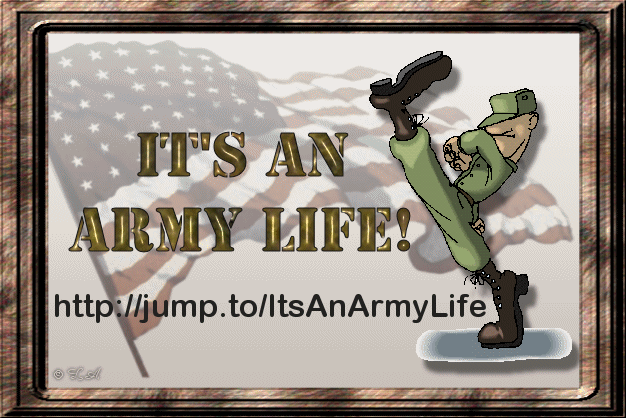 This web site has been established
so our friends and family can keep up with us even when we have been "re-deployed."
Est. 26 October 1998
Last updated 18 Sept 2004.
Meet Our Family:

James is a SSG. (E-6) in the U.S. Army & Dad.
Virgo- born in Farmington Hills, MI in the year of the Snake.
Home town: Brownstown Twp., MI
Current Duty Station: Fort Campbell, KY.
Current Unit: Undisclosed Aviation Unit (Yes, this site did get censored!)
Current job: Flight Paramedic
Qualifications: NREMT-Paramedic, he jumps out of perfectly good aircraft, flies in really great aircraft, jumps into freezing oceas to rescue downed aircraft... and all that other "swoopy" fun Army stuff!
Hobbies: Star Wars RPG, Star Wars Collecting, Paint Ball, WW I & WW II Strategic Gaming, & Play Station Addict.
CURRENTLY: Taking courses online trying to better myself and finally finishing a bunch of military schools that I somehow missed earlier in my career. I am so glad to be back in the states and most importantly, be with my family. When I am not working or doing something with family and friends, I love to squeeze in a few games of paintball or have a night of destroying my fellow Star Wars junkies in a few games of RPG. SO---> if you are in the area, email me! I am always up for throwing paint or rolling the dice!
Jamie is a Military Wife Extrodinare, Full time student, and Proud Pagan Parent!
Aquarius- born in Wyandotte, MI in the year of the Snake.
Home town: Brownstown Twp., MI.
HISTORY: Let's see... at one time or another in my adult life I have done "wayyyyy too much!" So if you think you might know me from somewhere here are some of the things I used to be really active in, but life has a way of changing your course, and now I no longer participate in. At one time I was a cadet in the ROTC Program at Central Michigan University and then at ASPU, but I had to leave after DJ was born becuase Jim and I did not want to be dual military. I then discovered scrapbooking and became a DOTS/CTMH® Independant Consultant. I was successful for about 2 years but 9-11-01 killed my business (being mostly militay folks and the base being on loack down for 3 months!) so I decided to retire. Throughout all that time I was an avid volunteer in the Ft. Campbell Mayoral Program and the AFTB program.
CURRENTLY: When I can squeeze in a few classes, I am a Bachelor of Professional Studies student at Austin Peay State University @ Ft. Campbell. I finally graduated in December 2001 with my A.A.S. in Criminal Justice & Military Science, and I have still not given up on my A.A.S. in Paramedicine! I did go back to school and get back my EMT license so I an nationally registered and licensed in Michigan and Kentucky but I cannot seem to find work local to me so I am still doing the SAHM thing. My faith has really become the biggest facet in my life right now so if I am not in school I am with my family and friends making a difference in the community! I am also a Spiral Scouts leader but right now DJ and I are taking a break from scouting to focus on getting used to being back in KY again and adjusting to Jim's home again, gone again schedule.
Hobbies: I love scrapbooking, crafts, building our web site, board games and making magickally mundane crafts!

Donald James (D.J.), kindergartner extrodinaire!
Cancer born in Wyandotte, MI in the year of the Tiger!
Home town: Fort Campbell, KY
Fav. Shows: Rolie Polie Olie, Buzz Lightyear, House of Mouse, Lilo & Stitch and Dragon Tales.
Fav. Foods: EVERYTHING! Heck his favorite place to eat is a Japanese Steakhouse and Sushi Bar and his next favorite is fondue! Of course nothing beats his two favorite McDonalds back in Michigan (Yes, Janette and Annette, he still love ya'll!)
Fav. Things: Dinosaurs, animals, nature, castles, dragons and anything magical! Newest Discovery: "I can make the dogs sing by playing my harmonica!"
Latest Declaration: I miss my family and my friends in Michigan! I want to go back! But I do love my school and my freidns down here too! Why can't Fort Campbell be in Michigan?
CURRENTLY: DJ loves spending time outside trying to find Mother Nature's own animal friends. If he is not outside then he is inside reading, playing with the hundreds of midevil castles and dragons he owns or he is playing leap pad.
Missie, 7, red dachshund.
Family guard dog, lap warmer & boss lady of the house!
Fav. Toys: Tug Cord & this raggity bear
Fav. Past Time: Laying on the window sill in the sun getting her beauty sleep. And chasing DJ around in the back yard! :-) Missie is also our "Big Bad Guard Dog," since DJ has been born! When ever DJ is around and someone that she don't know comes near DJ, she goes completely BONKERS! I guess that's a good thing, huh? After Missie became a Momma she totally settled down! LOL! She ended up having 6 little red doxy puppies a few years back so 5 of her puppies found new homes all over the Ft. Campbell area but DJ decided to keep one little girl he named Daisy.
Daisy, 3, red dachshund.
Family clown, feet warmer and security alarm!
Fav. Toys: ANYTHING she can get her teeth on!
Fav. Past Time: Laying on the window sill in the sun getting her beauty sleep just like her momma. We call Daisy our "Lazy Daisy" since all she does is lay around but get some doggy treats in her and she's a wild flower. Running all over the place driving everyone crazy! Her favorite thing to do lately is try to catch the neighborhood squirrel or the birds in the tree!
Our top ten favorite SW quotes to live by:
It is not wise to upset a Wookiee.
Size matters not.
Luminous beings are we...not this crude matter.
Try not. Do. Or do not. There is no try.
Wars not make one great.
There are alternatives to fighting.
If once you start down the dark path, forever it will dominate your destiny.
Don't give into hate- that leads to the dark side.
Many of the truths we cling to depend greatly on our own point of view
Thank the maker!
E-Mail Us!
Hosted by iVillage.com
Background provided by Realm Graphics.
ItsAnArmyLife graphic designed by Jamie using PSP 8.0