We Support the US Armed Forces!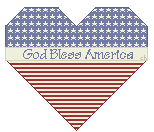 We are an Army Family and PROUD of it! We support all of our "brothers and sisters" who defend the freedom of this great country!


So far we have spent eight years at Ft. Campbell, KY and we consider it our home. We actually like it here even though we were due for a change, oh about 4 years ago! So when Jim had the chance to take a senior medic position overseas for a year he took it. That also ment that DJ and Jamie could move back to Michigan where all their family lives. So we spent 14 great months in the snow and construction of Michigan and after that we decided that we were very ready to go back home to FTCKY!


Things We love about Ft. Campbell
In the heart of the "country"!
Decent Weather!
It's not a training post (ie.. NO Drill Sargents)!
Wide variety of units!
Huge training areas!
Decent Hospital!
Near major cities (Clarksville & Nashville)!
Has a college near by!
Has a brand new state-of-the-art Education center!
Has a wonderful AFTB program!
And getting a new museum!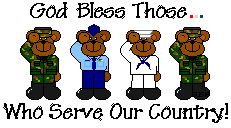 Proud to be...
by Jamie McManamon

I am an American and proud to be,
In this country where I am free,

To show my pride on the 4th of July,
I raise my hand up to my right eye,

And salute the flag of colors so true,
Yes, I am proud of that red, white, and blue!

Our Collection of Military Favorites
Our Daddy Wears Combat Boots
Your family might be too HOOAH if...
Humorous Military Jokes!!
Military Wives: There are angels among us!
Married: Army Style?!?




General Informative Military Links:

Operation Just Cause
Military Web
Special Operations
Special Operations Aviation Command
Special Warfare Web Page
Army Family Action Plan
DefenseLINK
Military City




E-Mail our Family
if you have questions.
<! trailer>
Hosted by iVillage.com
Bear graphic & birdhouse from Susie. Background & welcome banner by Pat.
Page last updated on 21 Jan 2004.